About Us
Versalift are the world's largest vehicle mounted platform manufacturer. We have over 50 years of experience in designing and manufacturing premium quality access equipment. Versalift United Kingdom Limited alone has sold over 8000 units since its formation in 1994 and today holds a market share of almost 90%.
Versalift Ireland is part of the Time Manufacturing Company which was acquired by the American private equity firm H.I.G. Capital in December 2021.
Versalift Ireland Limited
Versalift Ireland will operate from a new site, which will include a manufacturing facility, parts warehouse, and workshop, plus sales, administration and training offices. Appointment of new Service Engineers will provide customers with field-based technical service.
Following a number of recent significant acquisitions, Versalift Ireland will be the exclusive manufacturer and provider of sales, service and spare parts and training for Versalift, RUTHMANN STEIGER®, RUTHMANN ECOLINE, RUTHMANN BLUELIFT, France Elévateur and Movex brands.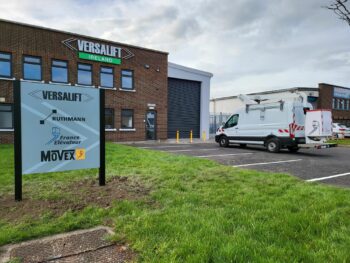 Industry Leading Support
With the infrastructure to support over 8000 machines in the UK and Ireland, we offer the highest level of service and support to each unit throughout its life. With global backing and extensive production and workshop facilities, Versalift leads the field.
National network of trained engineers
Technical Support Desk
Over £1M of OEM parts in stock
Product and IPAF Approved Training Centre